The AGPTEK 500W Fog Machine comes in more than one style. While I was happy with the one I purchased, I would have much rather had the model I recommend below. Both have great fog output, but the upgraded one allows for the color changing of lights.
Are you looking for an inexpensive fog machine for a small party or adding some creepiness for Halloween? Well, we got you covered. In this article, I purchased the AGPTEK 500W Fog Machine and will let you know everything about it!
Let's get started!
How to Choose the Best Cheap Fog Machine
I have been using fog machines for a long time, mainly with weddings and Halloween events. I have come up with these major factors as this is what I find to be the most important over my years working with fog machines.
I purchased this machine for a party to add a special ambiance, and this cheaper fog machine worked perfectly.
Heater Warm Up
Inexpensive fog machines are great and often output a lot of fog. One issue you will run into, though, is the heating up of the machine. This is because cheaper fog machines take longer to warm up.
The heater is very important as the machine sprays fog fluid on the heating element. It then heats it up to disperse the fog out of the nozzle.
With this machine, I found it took about 90 seconds to heat up in a room of 70 degrees Fahrenheit and about 150 seconds outside in 45 degrees Fahrenheit weather.
It will then output smoke when you push the red button down. You must hold it in till you are satisfied or 35 seconds pass. Whichever comes first.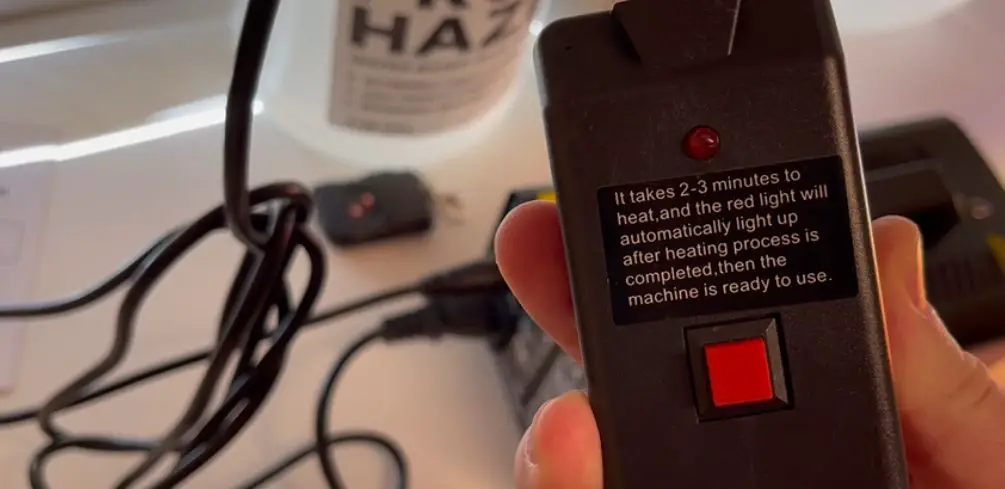 You can use the remote with one tap, and it will dispense the fog for 35 seconds, then stop to heat back up.
I found this to be a drawback of the machine as you can't have non-stop fog being produced, plus you have to activate the machine again when ready.
This is similar to the fog machines in this price range. The cheaper machines will not have as many features, as that helps keep the price lower.
Once it is ready again, you will see a green light on the back of the fog machine and a red light on the controller cord. I also noticed a click sound, which for me, was the easiest way to know it was ready again.
Fog Duration & Output
The fog is said to do 2,000 CFM [cubic feet per min] with a 2-3 m distance. I tried this in a small bedroom, and it was a bit much. Of course, I don't have any ventilation- I do think it would be ok for a large living room or an event hall type.
Keep in mind if the room is too large, you may need more than one. Always remember to test them first.
The fog output is very similar to other fog machines in the same price range. Most are around 2,000 CFM with similar wattage.
The AGPTEK 500 fog output stays consistent over time. Be careful, as machines like the XWSTGEQ Fog Smoke Machine start with a lot of fog and then produce less fog over time. This has not been the case with the AGPTEK.
The duration of the fog is 35 seconds. Then you must wait an average of 90 seconds before you can use it again. This will be a lot of fog at one time, so you may be ok waiting longer to use it.
Using the remote will save you the headache of going over to it every time and holding down the button, so don't lose it!
Remote Control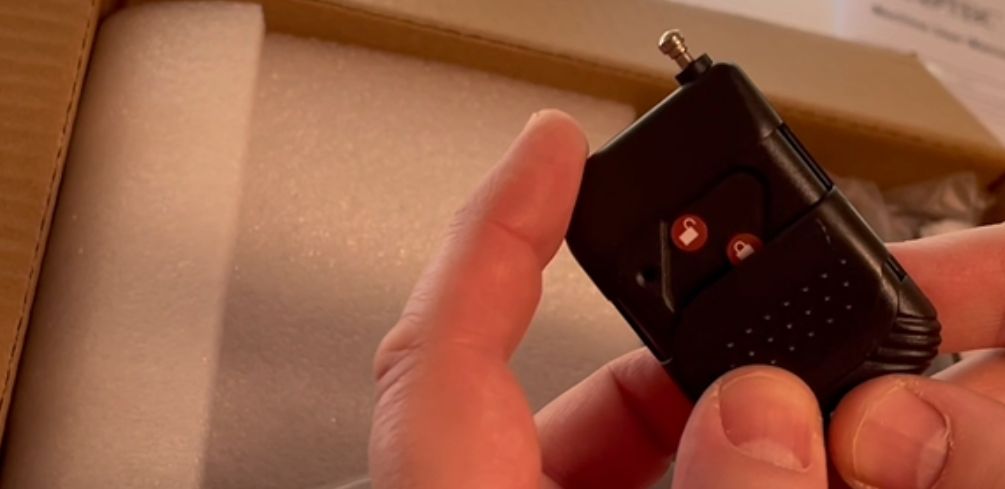 This unit does come with a simple remote control which shows as locking or unlocking. The unlocking is to turn the fog machine on, and the other is to stop it. The model I did the review on did not include a color-changing remote, and this is because the lights are fixed.
I do recommend the next model up if you are looking to change the color of the lights. If you prefer this "rainbow" appearance, then this one will be perfect for you.
Noise Level
The AGPTEK 500 does have some volume to it, so you may hear it though it's not really loud. You will mainly notice it if you are closer to it.
Try to put it away from guests, and this shouldn't be much of an issue, especially if you are playing music. If you would like a quiet machine, you would have to pay a lot more to accomplish this.
This is very similar to fog machines in this price range.
Capacity & Efficiency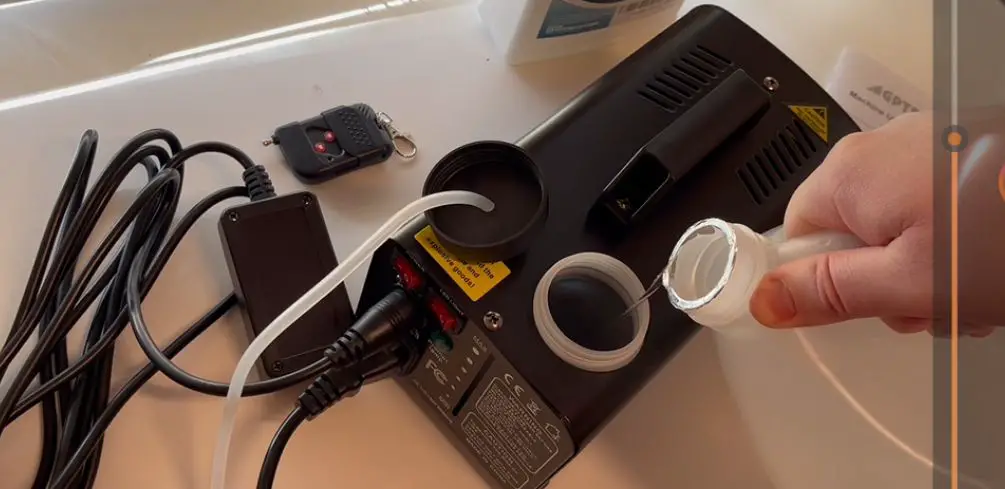 The fog fluid tank in the AGPTEK 500 holds .3 liters. This is a good amount, and you can see the level of the fluid on the back of the machine, which is nice to tell how much fog liquid you have left.
Make sure not to run out of fog fluid, or it can damage the machine. Also, make sure the tube with the nozzle on end is submerged in the fluid. If it isn't, the machine will not be able to draw the fluid and can fail.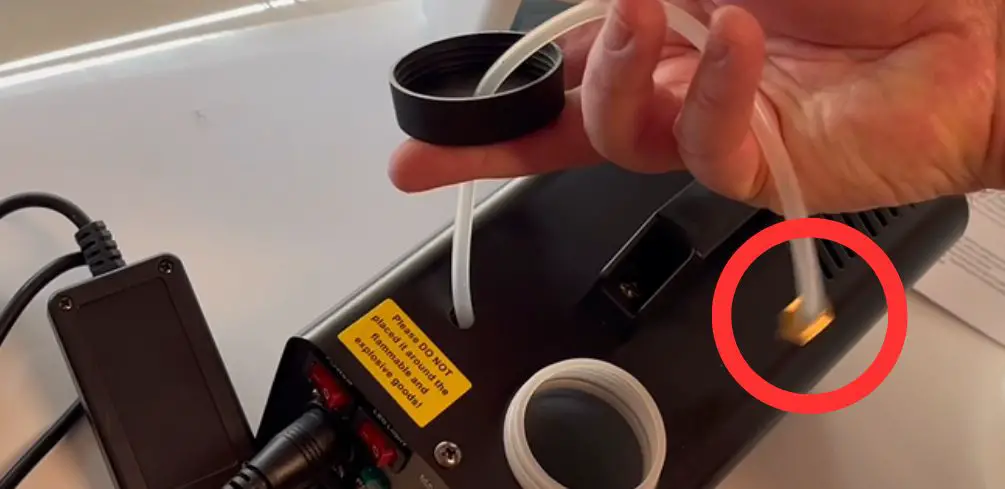 Lights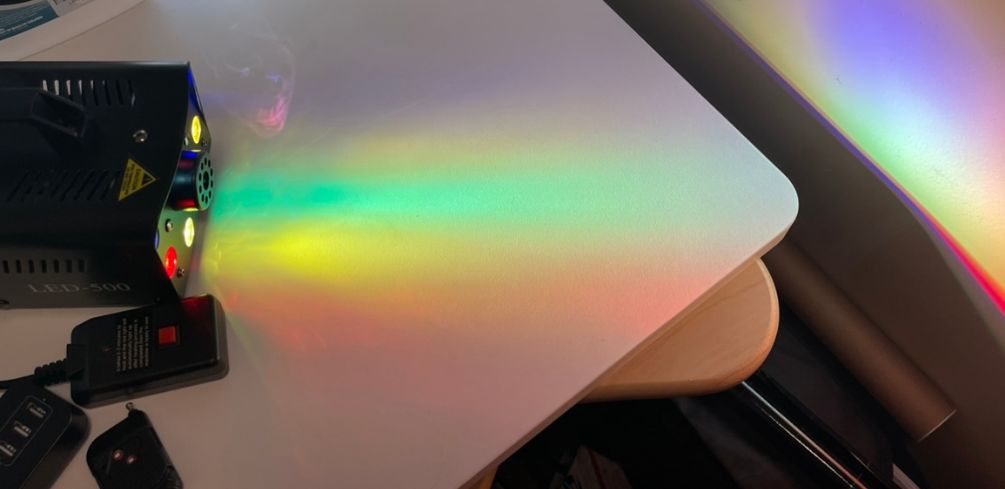 It's amazing how far fog machines have come where they now include a laser light-type feature. On this machine itself, it was nice to have a cool colorful rainbow effect.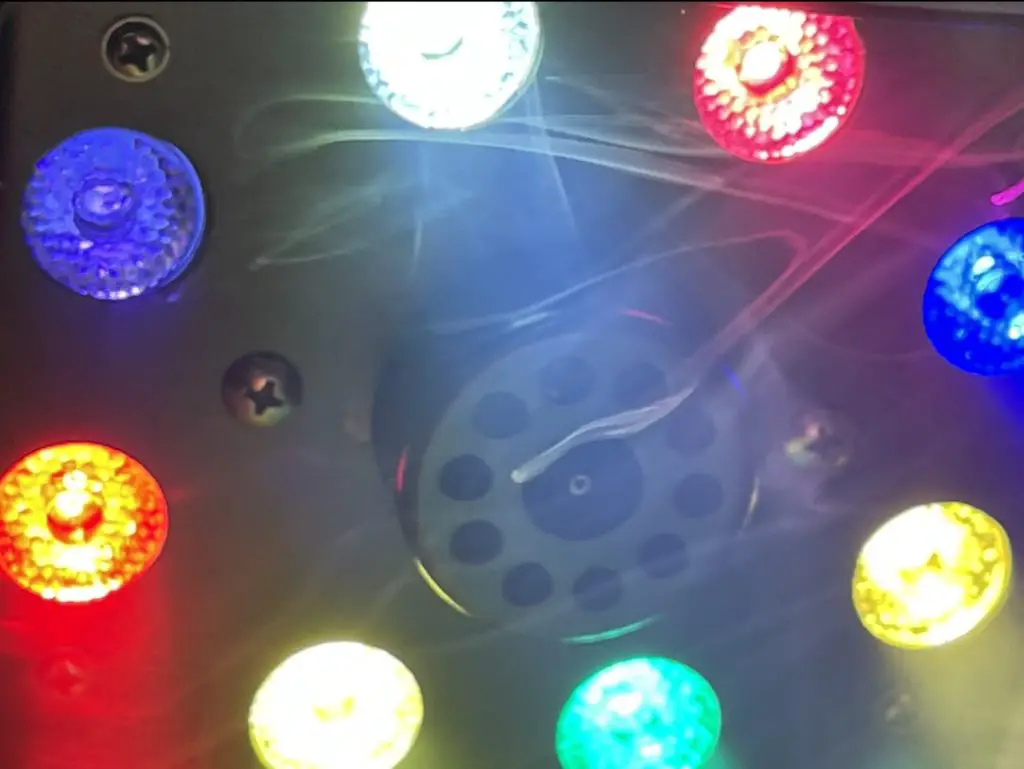 However; for me, I wish I had got the next model up where I would have a remote to change the color of the lights as I see fit. When changing the colors on the next model, you are only able to do one color at a time.
Ease of Cleaning
To clean the fog machine, you can follow the basic guide we already have. I don't see any issues with cleaning in this model. It is your typical configuration for cheaper fog machines.
Durability
This smoke machine is very solid. I didn't notice any parts that were weak. If I come across any, I will update this.
Warranty & Support
When purchasing any product, make sure they have decent reviews and a warranty. This comes with a one-year warranty.
Portability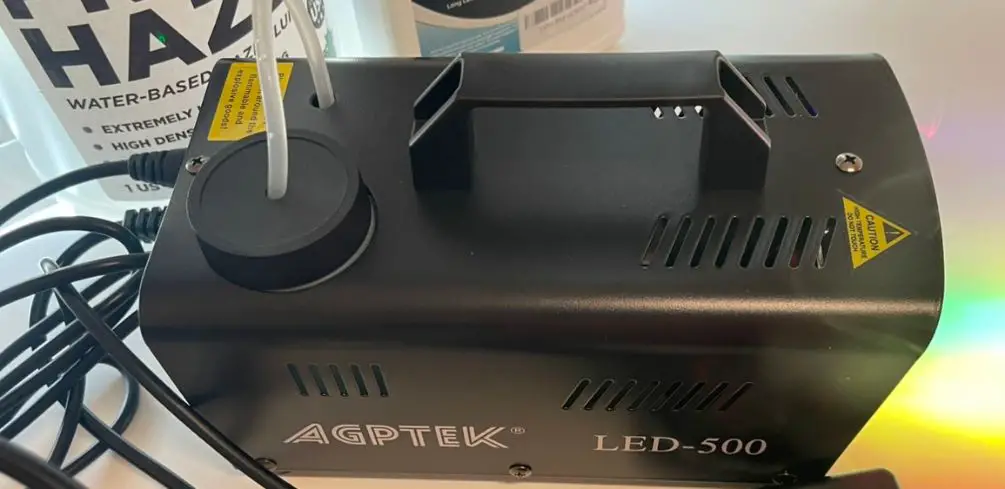 This is very portable as it's not too heavy and has a handle. Keep in mind it does require an outlet to power. Other than that, this shouldn't be an issue.
Power consumption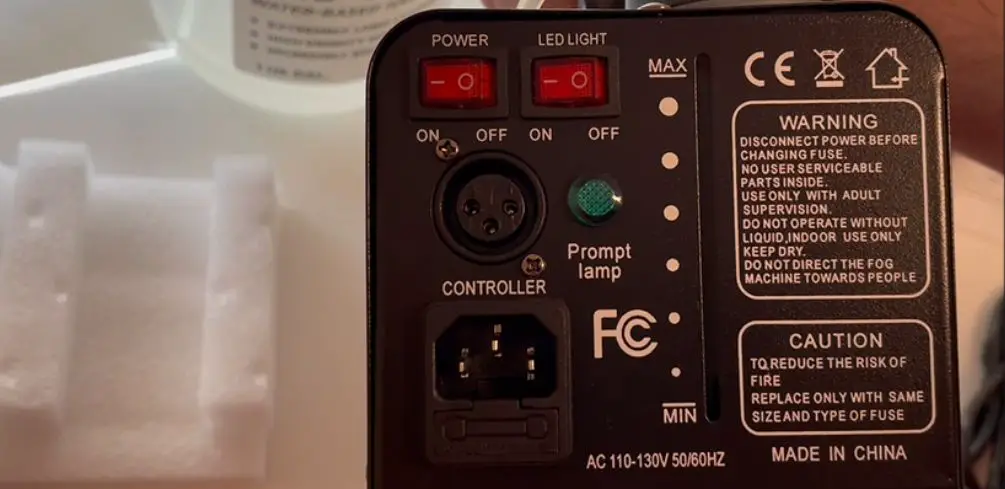 This fog machine is 500 watts; it uses 110 DC.
Ease of use
The AGPTEK 500 is very easy to use. That is one of the biggest benefits over other machines in the same price range. You fill the fog juice, plug it in and hit unlock on the remote and you have fog once it's warmed up.
Best Cheap Fog Machine: AGPTEK 500 (2 Models)
Let's check out the AGPTEK 500 Fog Machine I keep going on all about. It really is a great machine, and for the price, you can't beat it!
If you would like to watch this instead of reading:
AGPTEK 500 Fog Machine Static Lights
Static Lights
The fog output on this machine is great for a large room. You do need to initiate the fog with the remote or hold down the button on the machine. It will spray fog for about 35 seconds before it needs to heat back up, which usually takes about 90 seconds to reheat, then you can use it again.
Haze fluid worked great in the machine, which is nice as it was cheaper to buy a gallon. I'll link the fluids I purchased below as well as my results.
The lights looked really awesome, adding a bunch of different colors to the color spectrum. I would like to change this, so I would purchase the more expensive model to have this option though keep in mind you lose the rainbow effect and trade it in for a solid color. I'll list that machine next. 
Overall, great machine for the price. If you are mainly looking for a fog machine for fog only, this is perfect. You can turn the lights off and use it that way, though the lights do add a cool ambiance to it. It would look even better in a low lite, dark place.
The tank holds a great amount of liquid, so you won't have to fill it too often, if at all, in an event. The machine is light, though it does get heavier when filled with fog juice.
Be careful not to spill any of the fluid, especially over the back part of the machine where most of the electronics are.
Verdict: I purchased this fog machine to add some extra effect for parties and Halloween. It was inexpensive, and I found purchasing haze fluid by the gallon worked similarly and saved me some money. I think it's a great choice. However, I would have purchased the recommended one instead for the extra features.
Pros
500 Watts
.3 Liter tank
Able to see the fluid level from outside
Remote control
Rainbow lights
Cons
The fog machine timer is not automated. You must click start to produce fog each time
Lights don't change color
AGPTEK 500 Fog Machine Color-Changing Lights
Color-changing Lights
Though I didn't purchase this machine, it is the same as the other machine I did purchase, with just two key differences.
This one allows you to change the color of the lights with a remote. Now, this is a great feature the other one doesn't have but keep in mind it changes to just one color at a time, whereas the other machine did show multiple colors at once.


It comes with an extra handle that is pointed the correct way. It will be much easier to move and possibly connect it to something if you want it off the ground.
Personally, the color-changing option is something I missed, and I wish I had purchased this one instead.
Fog Fluid – Thicker Smoke in the AGPTEK 500 Fog Machine
Haze Fluid – Thinner Smoke in the AGPTEK 500 Fog Machine
---
Final Thoughts
Looking to add a bit more spooky to your Halloween setup? This can do it! This is a fun little machine that has some nice options and is very inexpensive yet made with quality.
I hope you enjoyed this product guide. I love investigating these products and seeing how well they work. Thanks for reading!
---
Please be careful and use at your own risk
None of the authors, contributors, administrators, or anyone else connected with WildFog, in any way whatsoever, can be responsible for your use of the information contained in or linked from these web pages.