The YONMIU 600W Fog Machine does exactly what it says: it produces fog wherever you need it. I do recommend it for indoor or to add a bit of scare to your Halloween night. This affordable fog machine is very easy to use, as I show in the video below.
Are you looking for an inexpensive fog machine for a small party or adding some creepiness for Halloween? Well, we've got you covered. In this article, I'll show you everything you need to know about the fog machine.
Let's get started!
Selecting the Ideal Budget Fog Machine
Throughout my experiences, especially at weddings and Halloween celebrations, I've had the opportunity to work extensively with fog machines. Based on these encounters, I've identified several critical factors to consider when choosing one.
Recently, I bought a fog machine for an event to enhance the mood. To my surprise, the more affordable option did an outstanding job.
Heater Warm Up
Budget-friendly fog machines can be impressive, often producing a significant amount of fog. However, a common challenge with these machines is their extended warm-up time.
The heating component is crucial since the machine releases fog fluid onto it. The fluid is then heated, allowing the fog to be emitted from the nozzle.
With this machine, I found it took about 120 seconds to heat up outside in 55 degrees Fahrenheit weather.
When you press the red button, the machine will begin to emit smoke. Keep it pressed until you achieve the desired effect or until 120 seconds elapse, whichever occurs first.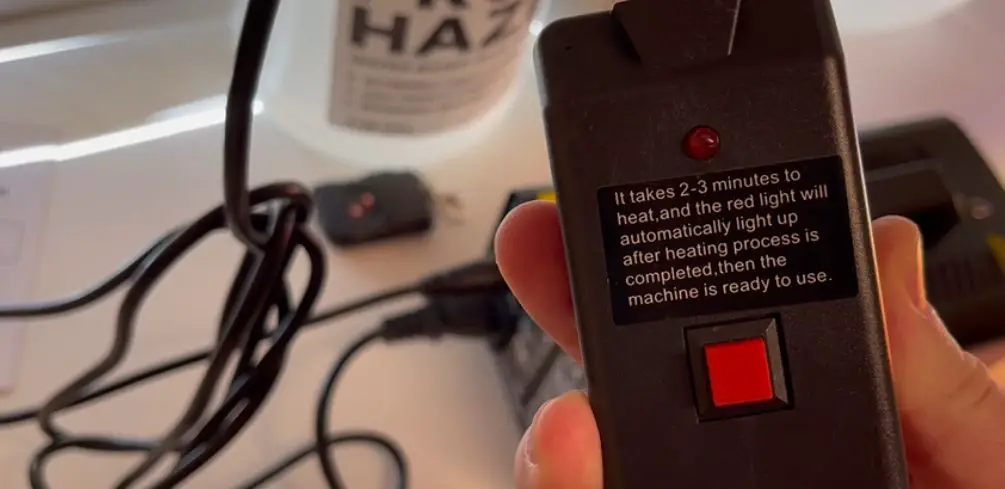 With a single press on the remote, the machine releases fog for a duration of 120 seconds before needing to reheat.
One limitation I observed is the inability of the machine to produce fog continuously. Furthermore, to get it working again, you have to manually activate it.
This trait is common among fog machines at this price point. To maintain a lower cost, these more affordable units often lack additional features.
When the machine is prepped for another round, a red light illuminates the controller cord. Additionally, there's an audible click, which I found to be the most convenient signal that it's set to go again.
Fog Duration & Output
The fog is said to do 3,000 CFM [cubic feet per min] with a distance of up to 15 feet. I tried this outside and it did indeed go pretty far.
The duration of the fog was about 40 seconds, then you had to wait for the machine to cool down to go again. You have to press the button on the remote control or the adapter plugged in pictured above to start the fog again.
Remote Control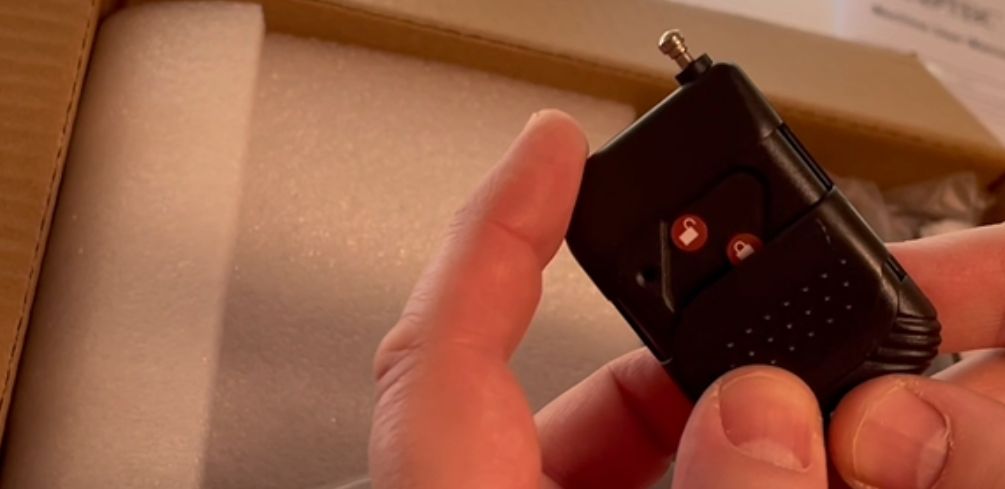 The device includes a basic remote control featuring "locking" and "unlocking" options. "Unlocking" activates the fog machine, while the opposite stops it. The specific model I reviewed doesn't come with a remote that changes colors because the lights on it are static and cannot be altered.
This model also comes with an LED remote, so you can change the 8 colored lights at a press of a button. There are 13 options for colors and you can also do a strobe effect which is one of the best as it matches the colors coming from the disco ball.
Noise Level
The fog machine emits a certain level of noise, though it's not excessively loud. The sound becomes more noticeable the closer you are to the device.
Placing it at a distance from your guests can help minimize any disturbance, especially if there's background music playing. If you're aiming for a quieter operation, be prepared to invest in a higher-end model.
Such noise levels are typical for fog machines within this budget category. Watch the video for a chance to hear it below.
Capacity & Efficiency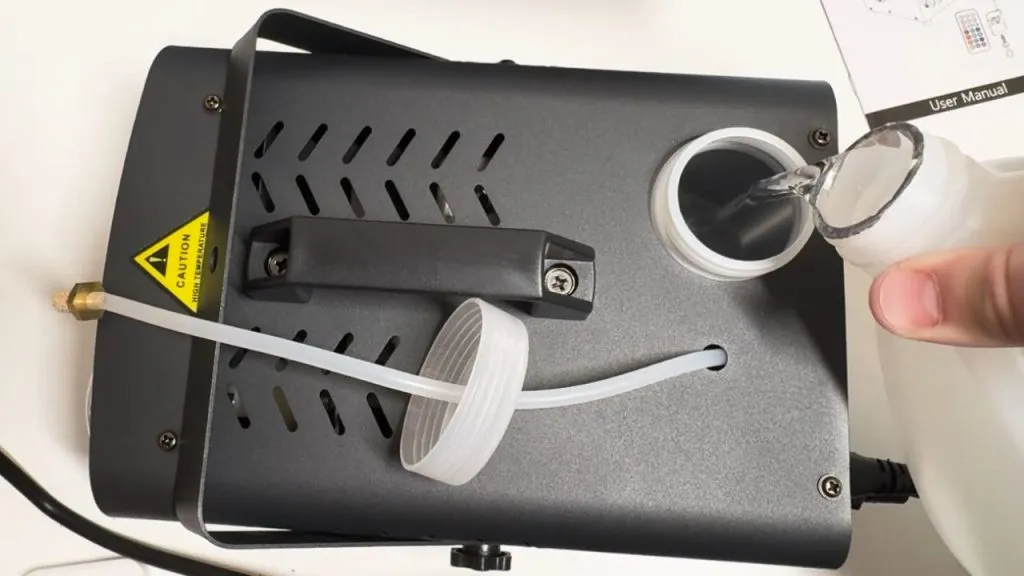 The YONMIU Fog Machine comes equipped with a fog fluid tank that has a capacity of .25 liters. It's a decent size, and conveniently, you can monitor the fluid level through an indicator on the back of the device, which helps in gauging how much fog juice remains.
It's imperative to ensure that the fog fluid doesn't deplete completely, as running it dry might harm the machine. Furthermore, ensure the tube, particularly its nozzle end, is immersed in the fluid. Failure to do so can hinder the machine's ability to uptake the liquid, leading to potential malfunction.
Lights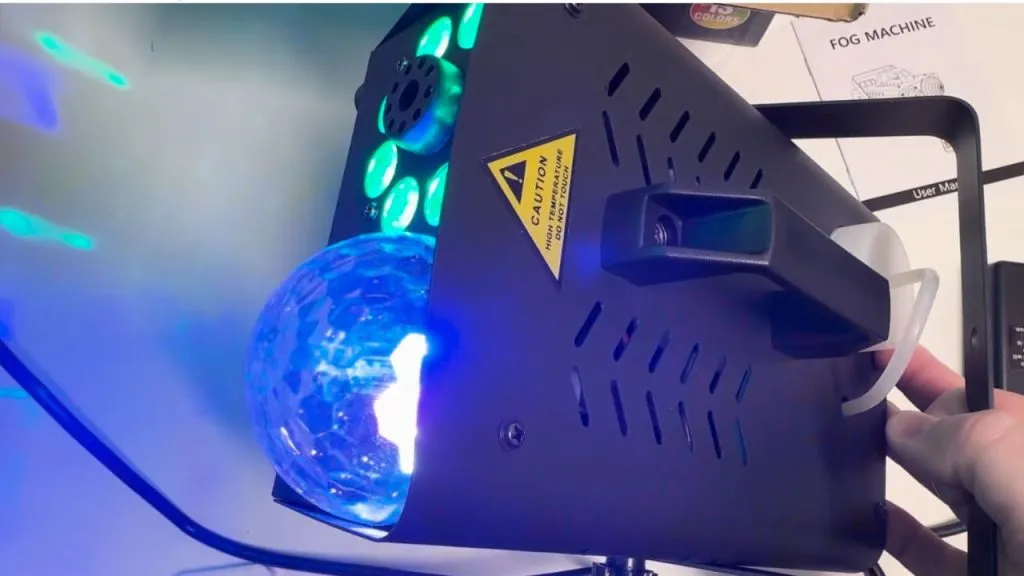 It's awesome how far fog machines have come where they now include a laser light-type feature with a crystal disco ball.
Ease of Cleaning
To clean the fog machine, you can follow the basic guide we already have. I don't see any issues with cleaning in this model. It is your typical configuration for cheaper fog machines.
Durability
The smoke machine is robustly built. I didn't detect any fragile components. Should I encounter any issues in the future, I'll provide an update.
Warranty & Support
When purchasing any product, make sure they have decent reviews and a warranty. This comes with a one-year warranty.
Portability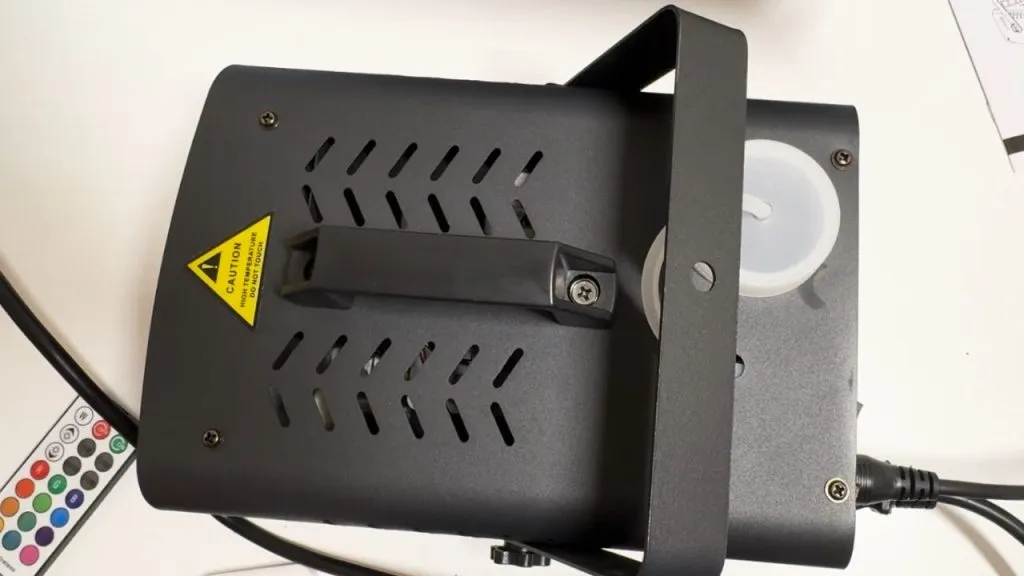 The device is highly portable due to its manageable weight and dual handles. However, it's worth noting that it needs an electrical outlet for operation. Beyond that, portability shouldn't pose any problems.
Power consumption
This fog machine is 600 watts; it uses 110 DC.
Ease of use
Operating the YONMIU Fog Machine is a breeze. Its user-friendliness sets it apart from other machines at a similar price point. Simply add the fog fluid, connect it to power, press 'unlock' on the remote, and once it's heated, you're ready to produce fog.
Easy Halloween Fog Machine: YONMIU 600W Fog Machine
Let's check out the YONMIU Fog Machine I keep going on all about. It really is a great machine, and for the price, you can't beat it!
If you would like to watch this instead of reading:
YONMIU Fog Machine 600W
Disco Ball & LED Lights
Verdict: This fog machine is very visually pleasing. The 8 LED lights can change color all at one time. The disco ball is on its own random color-changing lights. Yes, you can turn one off without the other. If you want them to be in sync, use the strobe setting for the LED. The fog works great, though you do need some time between smoke sprays. For the price, this is an amazing machine.
Pros
600 Watts
.25 Liter tank
Able to see the fluid level from outside
Remote control for LED & Fog Output
Cons
The fog machine timer is not automated. You must click start to produce fog each time.
Takes awhile between fog bursts.
Fog Fluid – Thicker Smoke in the YONMIU 600 Fog Machine
Haze Fluid – Thinner Smoke in the YONMIU 600 Fog Machine
---
Final Thoughts
Want to elevate the spookiness of your Halloween decor? This machine's got you covered! It's an affordable yet well-crafted piece that offers some neat features.
I trust you found this product review helpful. Delving into these products and assessing their performance is a passion of mine. Appreciate you taking the time to read!
---
Please be careful and use at your own risk
None of the authors, contributors, administrators, or anyone else connected with WildFog, in any way whatsoever, can be responsible for your use of the information contained in or linked from these web pages.